Thursday, October 19, 2017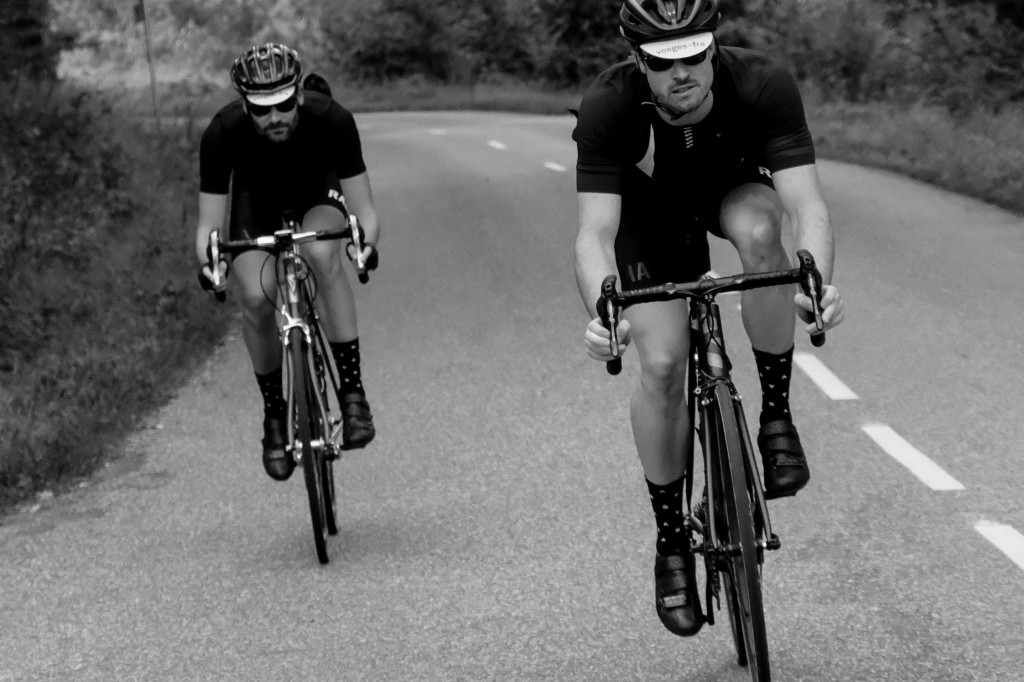 (English version below)
Si les Vosges sont les montagnes les plus proches de Paris, les Parisiens ne les connaissent pas pour autant. Pourtant, il suffit de 2h16 de TGV pour voir leur herse naturelle se dresser depuis les plaines qui entourent Colmar. Le Rapha Prestige était l'occasion de rendre hommage à ces cimes bleutées. Une édition pour grimpeurs que beaucoup ont sous-estimée à leurs dépens…
Le briefing est à 7h. Pour les équipes non-motorisées comme l'Amicale Cycliste dont je fais partie, cela implique de grimper de nuit pendant cinq kilomètres. Un réveil plus efficace qu'un double-expresso ! Lorsque nous arrivons, le jour se lève tout juste. Le Château du Hohlandsbourg offre une vue imprenable sur l'agglomération de Colmar. Les brumes lèvent le voile. A peine plus loin, c'est l'Allemagne. Nos voisins sont venus nombreux à l'invitation de Canyon ou par simple envie de confronter leurs talents aux montagnes françaises. Une poignée de britanniques est arrivée en voiture depuis Londres. Les Vosges sont-elles the place to be ? Avec trente quatuors et un départ toutes les deux minutes, les derniers ont le temps d'admirer les équipes qui ont fait l'effort de se présenter sur la ligne en harmonie de la casquette aux chaussettes. Notre tour vient enfin.
Les premiers kilomètres traversent les coteaux plantés de vignes récemment vendangées. Le millésime 2017 s'annonce prometteur. Personne n'en doute. Progressivement, nous quittons les cultures pour la forêt. Les pourcentages du Grand Hohnack font le ménage et dans la descente, nous rattrapons Le Mélange Prestigieux avec qui nous roulerons jusqu'au pied du Petit Ballon. On ne triche pas avec ce col où chacun est contraint d'être à son rythme. La route serpente dans la forêt. Le bitume est bosselé. On progresse à l'aveugle, les pensées rythmées par le tempo du cœur. À la ferme du Ried, les alpages offrent un premier répit. Néanmoins, c'est le moment d'en remettre une jusqu'au premier checkpoint. Premier bilan : le parcours ne rigole pas et nous n'avons que 50 kilomètres au compteur. Que nous réserve la suite ? La descente réclame toute notre lucidité. C'est là qu'Alberto Contador a chuté et abandonné le Tour en 2014.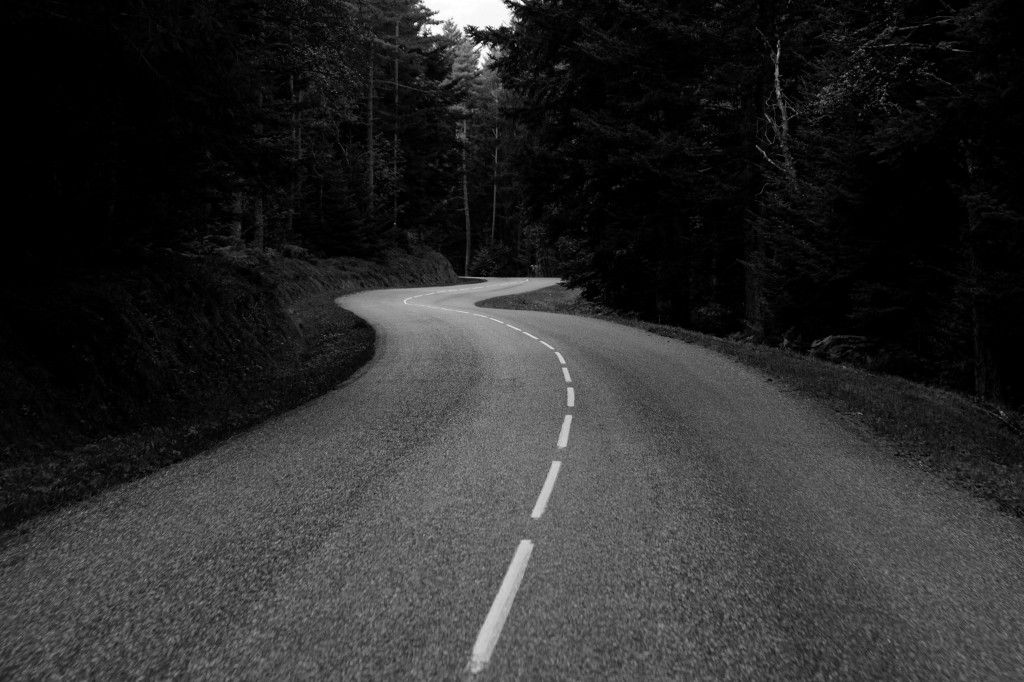 Dans le col du Platzerwasel, les équipes volent en éclat. La Route des Crêtes les rassemble pour une jolie récompense et achève de les convaincre que les Vosges sont de vraies montagnes ! On aperçoit le Grand Ballon, leur point culminant. La dernière rampe est impitoyable et le Mobile Clubhouse une apparition. Les participants se ruent sur les bretzels et n'hésitent pas longtemps avant d'en prendre un second. D'autres laissent même leurs vélos pour un déjeuner plus consistant à l'auberge attenante. Les 20 kilomètres de descente à venir leur laisseront le temps de digérer. « Défense de luger » prévient la pancarte plantée par le maire. Nous en rions tête baissée et retrouvons des couleurs à mesure que les lacets défilent.
Troisième checkpoint. Le plus dur serait-il passé ? C'est sans compter sur ce mur final qui est sur toutes les lèvres. À nouveau, la nature change. On voit revenir les vignes nimbées de l'or du soir et les tours du Hohlandsbourg si proches et si hautes à la fois. À gauche toute ! Pas de préliminaires, il reste 5 kilomètres mais le compteur indique 13%. L'équipe rassemble ses dernières forces et nous franchissons enfin les remparts. « It never get easier, you just go faster ». Que l'on soit premier ou dernier, la journée aura été rude pour tout le monde, les applaudissements n'auront jamais été aussi spontanés et sincères et il se pourrait que nos toasts résonnent encore en ces lieux historiques.
Par Foucauld, avec des photos de Jochen Hoops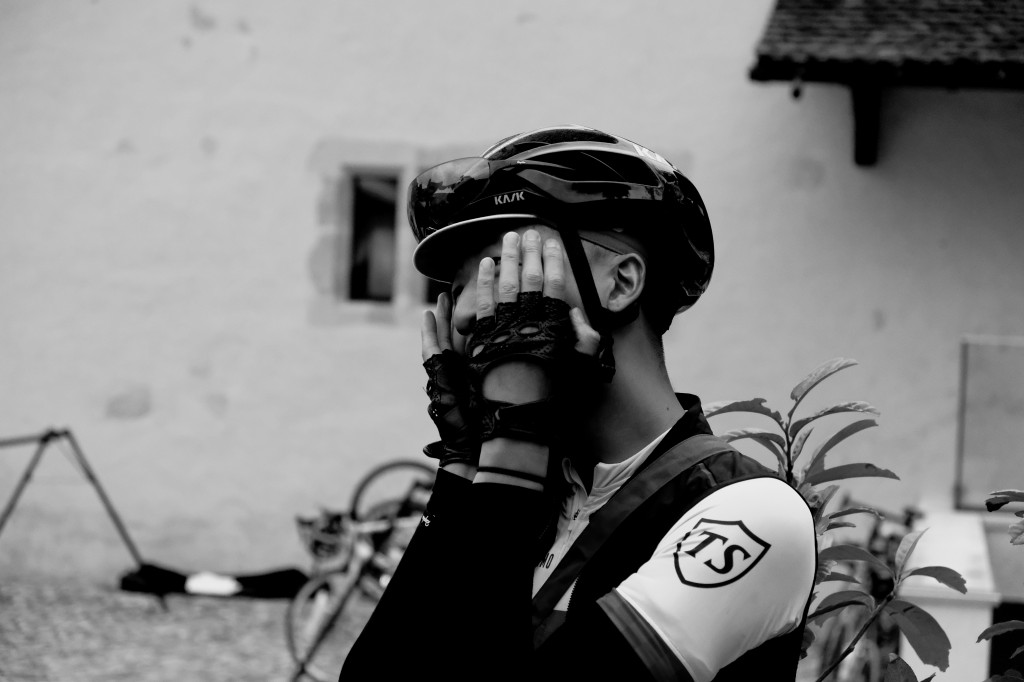 ENGLISH VERSION
If the Vosges are the closest mountains from Paris, it doesn't mean that the Parisians know them. However, it just takes 2h16 of TGV to see their natural harrow rising from the plains that surround Colmar. The Rapha Prestige was the occasion to pay homage to these bluish peaks. An edition for climbers that many underestimated to their expense…
Briefing is at 7am. For the no-motorized teams like l'Amicale Cycliste of which I am a part, it implies to climb at night for five kilometres. A wake-up more effective than a double-espresso! When we arrive, the day just gets up. The Castle of Hohlandsbourg offers a breath-taking view over the metropolitan area of Colmar. The mists lift the veil. Just a little further, it's Germany. Our neighbours came to Canyon's invitation or simply to compare their talents to the French mountains. A British team even came by car from London. Are the Vosges the place to be? With thirty quartets and a departure every two minutes, the last ones have time to admire the teams who have made the effort to present themselves on the line in harmony from caps to socks. Our turn comes at last.
The first kilometers cross the hillsides planted with recently harvested vineyards. The 2017 vintage looks promising. No one doubts it. Gradually we leave the crops for the forest. The Grand Hohnack's gradients clean everything up. In the descent we catch up with team Mélange Prestigeux and ride with them to the foot of the Petit Ballon. One does not cheat with this pass where everyone is forced to be at his own pace. The road winds through the forest. The bitumen is bumpy. We progress blindly, our thoughts rhythmic by the tempo of our heart. At the farm du Ried, the alpine pastures offer a first respite. Nevertheless, it is time to make a last effort to reach the first checkpoint. First assessment: the race is no laughing matter and we have only 50 kilometres at the counters. What can we do next? The descent demands all our lucidity. This is where Alberto Contador fell and abandoned the Tour in 2014.
In the Platzerwasel pass, the teams are smashed into pieces. The Route des Crêtes brings them together for a nice reward and finally convinces them that the Vosges are real mountains! Frome here, one can see the Grand Ballon, their culminating point. The last ramp is unforgiving and the Mobile Clubhouse is like an apparition. Participants rush on the pretzels and do not hesitate long before taking a second one. Others even leave their bikes there for a more substantial lunch at the adjacent restaurant. The 20 kilometres downhill to come will give them time to digest. "Sledging is forbidden" warns the sign planted by the mayor. We laugh and recover as the laces scroll.
Third checkpoint. Would the hardest thing have happened? It is without counting on this final wall, which is on every lip. The nature changes again. We see the vineyards numbed with evening gold and the towers of Hohlandsbourg so close and so high at the same time. Full steam ahead! No preliminaries, it remains 5 kilometres but the gradient meter indicates 13%. The team gathers its last strength and we finally cross the ramparts. "It never get easier, you just go faster." Whether one is first or last, the day has been tough for everyone, and applauses have never been so spontaneous and sincere. Our toasts might still resonate in these historic places.
By Foucauld with pictures by Jochen Hoops